2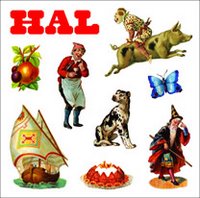 2) Hal - Hal
"What a lovely dance, wasn't looking for romance...but i found it".
That's how Hal's debut begins, with a crashing chord and some simple words floating on one of their briliant melodies, before a soaring synth lifts the chorus to sky high pop-rock bliss. Bliss is i think the right word. Hal are happy little guys, singing about sore eyes and keeping love as your golden rules, so if you're not one for the sacharrine maybe stay away. Having said that, there's more to them than just goo. The songs are well crafted, starting with their basic piano, guitar, bass and drums lineup, and adding plenty of extra keys (be it organ, piano or synths), loads of percussion, and a whole lot of harmonies. Inevitably Hal get the Beach Boys label, and that's fair, but these guys sound more like the 70s to me, which is just enough to distance them from another bunch of Irish popsters, the Thrills.
Another thing I especially like is that earnest quality that Hal have. There's nothing ironic, cool or hip about them, and for whatever reason, that endears them to me a whole lot more than say the New Pornographers.
I've listened to this record over and over and i must say, for me, it's close to pop-perfection. However, the question remains...what album was better this year? You may actually already know the answer...